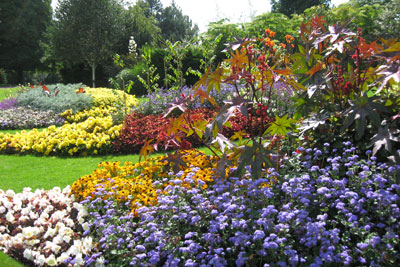 UNIVERSITY PARK GARDENS 
Nottingham NG7 2RD  
University of Nottingham 
NGS OPEN DAY - SUNDAY 19th August 12 md - 4pm 
Admission £3.50
Light refreshments at Lakeside Arts Centre
Approx 4 miles SW of Nottingham city centre & opp Queens Medical Centre.
NGS visitors:  Please purchase admission tickets in the Millennium Garden (in centre of campus).  signed from N & W entrances to University Park & and within internal road network. 
University Park has many award winning gardens including the award winning Millennium Garden with its dazzling flower garden, timed fountains and turf maze. Also the huge Lenton Firs rock garden, the dry garden and the Jekyll garden. During summer, the walled garden is alive with exotic plantings. In total, 300 acres of landscape and gardens. Picnic area, cafe, walking tours, accessible minibus to feature gardens within campus. Plant for sale in Millennium garden. Some gravel paths and steep slopes.